News
The Rising Risk of Being CFO
The drive to combat corporate misconduct is making it a dangerous time to be a finance chief.
RPA & Artificial Intelligence BFSI World Summit
10-12 July, 2017 | London, UK
RPA & Artificial Intelligence BFSI World Summit
47th IAFEI World Congress
The next 47th IAFEI (
International Association of Financials Executives Institutes)
World Congress
Will be held on 27th-29th September 2017
At:
Hotel Unique
Av. Brigadeiro Luís Antonio, 4.700
Jardim Paulista – São Paulo, SP – Brazil
Vietnam, regional CFOs mull strategies to overcome forex challenges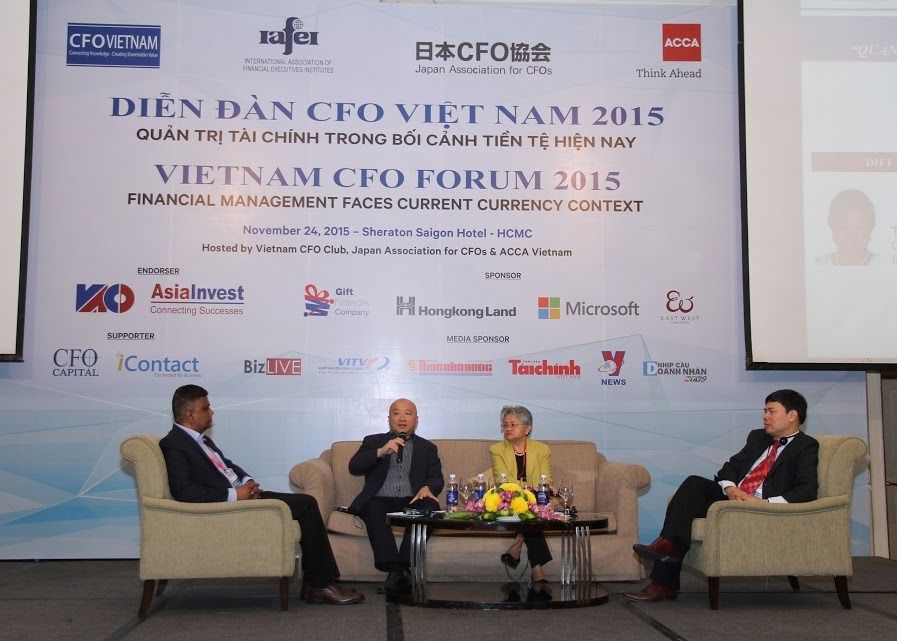 Joseph Alfred – Head of Policy and Technical, ACCA Singapore Benjamin Pwee - Managing Director, E-Deo Asia Conchita Manabat – Chairperson, the IAFEI Advisory Council Nguyen Ngoc Bach – Director, Vietnam CFO ; Chairman and CEO AsiaInvest Group
Vietnam CFO Forum 2015: FINANCIAL MANAGEMENT FACES CURRENT CURRENCY CONTEXT
The Vietnam CFO Forum 2015 on the theme of "Financial Management Faces Current Currency Context" was hosted by Vietnam Chief Financial Officers (VCFO) in co-operation with Japan Association for CFOs (JACFO) and the Association of Chartered Certified Accountants UK (ACCA) on November 24, 2011, 13:00 – 17:00, at Sheraton Saigon Hotel, Ho Chi Minh City.
CFO Vietnam and CIMA UK team up to boost financial skills in Vietnam
Vietnam CFOClub (VCFO) and the Chartered Institute of Management Accountants (CIMA) in UK have teamed up to boost professional skills of financial executives which will help international integration of the country in the coming years.
The Vietnam CFO Forum 2014: BUILDING SUCCESS FROM FAILURE
Vietnam CFO Forum 2014 ended in Ho Chi Minh City with insights from the domestic and international arena, providing participants with a new attitude and vision to overcome challenging economic conditions.
Whenenterprisescan"Stop Worrying" aboutadministrative procedures?
The newly issued Resolution63/NQ
-
CP

to resolve difficultiesand obstacles andpromote the development ofenterprisesand Circular119/2014/TT

-

BTC in order to innovate and

simplify

tax administration procedures

recently has receivedpositive responsefrom thepublic andenterprises

.

VIRhasconducted aquick interviewwithMs.HuongVu-Deputy Director of

Chief

Finance Officer ("CFO") Club

.
Experts highlight importance of business continuity management at seminar
HCM CITY – Recent events such as fire, flood, civil disturbances have highlighted the need for firms to be better prepared to deal with major disruptions to business operations.

Besides, operation resilience is the key to survival and having both the right recovery plans in place and the most effective insurance programme will ensure a firm can continue to operate.




Standardization of business processes - Reality & Challenges
On 22.08.2014, Vietnam CFO Club with supported from Abeo Electra has organized the August Vietnam CFO Members meeting with the topic: "Standardization of business processes - Reality & Challenges".


Vietnam Investment Forum 2014: What opportunities for Vietnam?
Vietnam will become one of the most developed emerging markets in the next ten years providing that the Vietnamese government reduces its administrative intervention in the economy, Dr. Marc Faber, one of major foreign investors in Vietnam, said at the Vietnam Investment Forum 2014 (VIF2014) which was held in Ho Chi Minh City.VIF 2014, co-organised by VIR, HVS Vietnam and Asia Frontier Capital, CFO Vietnam participated this important eventas a supporter.
CFO conference sheds light on business growth
Senior financial executives are playing increasingly influential roles in strategy and operation, working closely with CEOs and management boards to creatively assess and design growth opportunities.


HCMC hosts Vietnam CFO Forum 2013
Ho Chi Minh

City gave host to the Vietnam CFO Forum 2013 themed "Resilience Strategies in Hard Times" on November 20.




VIETNAM CFO FORUM 2012: "Financial Restructuring to Overcome the Crisis"
Hochiminh city, Vietnam - Vietnam Chief Financial Officers (VCFO) in cooperation with Japan Association for CFOs (JACFO) and ACCA Vietnam held the Vietnam CFO Forum 2012 themed "Financial Restructuring to Overcome the Crisis" on October 17, 2012.
Starting a Business? Why You Need to Know Financial Management
Financial management
is an often overlooked necessity for a growing business. In most cases, it is overlooked simply because the entrepreneur is unsure of how to use financial reports to help guide future decisions. For solo or micro businesses with no plans for growth, neglecting to develop financial projections is not the end of the world, but if you have any plans for growth, solid
financial management
is critical from startup on.
Managing your performance by measuring your risks! (Part I)
Risk is, by definition, forward looking. It is a measure of probability of either loss or gain. And that probability of value destruction or creation directly impacts a company's performance objectives. The way American business magnate Warren Buffet put it, risk comes from not knowing what you're doing. So, you've got to align your risk and performance management in a holistic manner, to avoid the 'blind spot which many companies fail to see'.
Who is the conductor of your strategy?
A good orchestra is one with a good strategy, well executed by all its' musicians, to achieve their mission of good music enjoyed by the audience. The orchestra is led by its conductor, who develops and oversees the execution of his vision and strategy together with his musicians. Who, having listened to Beethoven's fifth symphony played beautifully by a full orchestra could question the importance of good strategy well executed? And why should corporate strategy be viewed any differently?
Save millions by rationalising initiatives that do not focus on your strategy
Each Formula 1 team starts the new season by setting their collective aspirations (strategic objectives) for the coming year. Based on historical data and data collected during the first few training weeks of the new season, the team measures how big the gap is between today's performance and their aspirations. After thorough analysis of the data, the team will initiate initiatives to help close their performance gap. So what is the difference between a Formula 1 team and your organisation?
Organisations still steer through the rear-view mirror. . ...and they don't know better, 'time to reset!'
Every day organisations are steering blindly into the future with strategic plans and annual budgets that are outdated and fail to correspond with reality. In the current business environment, where today's plans may greatly differ from tomorrow's reality, organisations need to forecast faster and more frequently if they intend to successfully address today's needs and meet tomorrow's demands.
Vietnam Business Information Forum (VBIF 2011), Hanoi, Vietnam, 19-20/08/2011
Vietnam Business Information Forum (VBIF 2011) makes great contribution to the success of the 8th World Congress of World Federation of UNESCO Clubs, Centers and Associations (WFUCA)
Many opportunities for well-run enterprises
In the current situation, any firm with a sound business strategy, lean and mean business model, and flexibility in using capital will have many chances for growth. This is what Nguyen Ngoc Bach, general director of AsiaInvest Private Investment Co. and vice general secretary of the Association of Vietnamese Business Administrators, suggested in an interview with

The Saigon Times Daily.
Chief finance officers share information
HA NOI — More than 200 local and foreign chief financial officers (CFOs) gathered here yesterday for a seminar on their role during fiscal turbulence.
Know Your Numbers
It's just as important in business as it was in elementary school.
Captains of Capex
Some companies have outpaced the field in capital investments even as they've kept the cash flowing. What are their secrets?
Should CFOs Serve on Their Own Boards?
A new study finds somesurprising benefits associated with CFOs who serve on their own companies'boards.
Top 10 Ways to Cut Your Audit Bill
Our list ranges from beefing up internal audit to avoiding posh steakhouses for those working lunches.
A Risk Top 10 for 2010
After the economic turmoil of 2009, CFOs could be forgiven for trying to relax a bit. But the new year will offer plenty of reasons to stay awake at night, according to a new survey by the Corporate Executive Board (CEB).
Hanoi meeting attracts region's corporate leaders
Chief financial officers (CFOs) from companies across the Asia Pacific gathered in Hanoi on November 27 to discuss measures to help enterprises survive the aftermath of the global recession.
Cash flow: a better way you know your bank?
If banks more consistently accounted for their operating cash flow, companies could gain a better grasp of their commercial banks' financial health, two professors suggest in a report to be released.
Vietnam Personal Income Tax exemption from January 2009 to June 2009
At the 5th meeting on 19th June 2009,The National Assembly of Vietnam ratified the exemption for the postponed PIT for the period from January 2009 to June 2009.


Comprehensive cooperation agreement between VACD and VNUH
Vietnam Association of Corporate Directors (VACD) and Vietnam National University, Hanoi (VNUH) signed a comprehensive cooperation agreement on 25 May 2009
Top Ten Concerns of CFOs
Finance executives' biggest worries? Cash, cash and cash.
7 Essential Reasons Your Business Needs A CFO
If you're a CEO or business owner then you will want to grow your business to a decent size. If you do, then there will come a point, early in the life of your business when you need to appoint a Chief Financial Officer (CFO). It doesn't have to be full time and at the outset it is likely to be much better for the business to have a more flexible, part-time arrangement. However, the essential element is that you need someone (and this won't be your accountant or book-keeper) with the right experience and qualifications to fulfill the role of your CFO.
The Basics Of Corporate Structure
CEOs, CFOs, presidents and vice presidents: what's the difference? With the changing corporate horizon, it has become increasingly difficult to keep track of what people do and where they stand on the corporate ladder. Should we be paying more attention to news relating to the CFO or the vice president? What exactly do they do?


Vietnam CFO Club- Weekly statutory document update
From March 2009 on, Vietnam CFO Club will provide the Club's official members with newly issued legal documents.
Club for financial high-rollers debuts
HA NOI — The Viet Nam Chief Financial Officer Club, under the Viet Nam Association of Corporate Directors (VACD), made its official debut last Saturday in the capital.